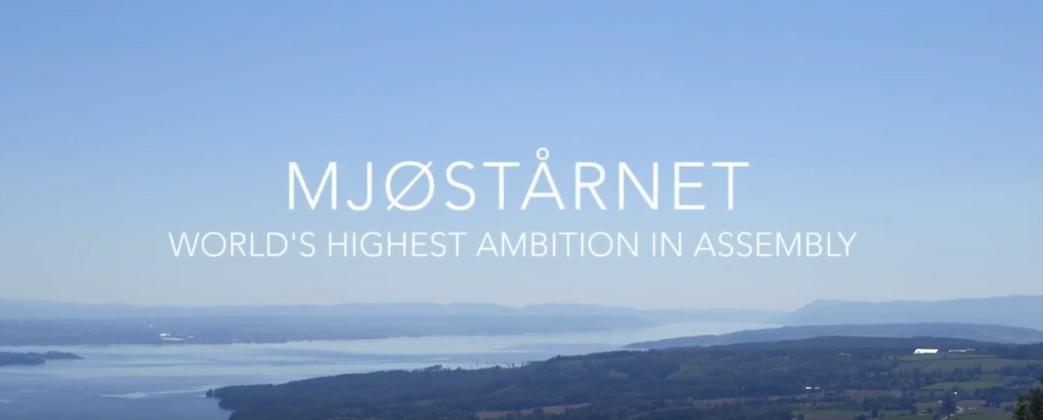 Q&A about Mjøstårnet
Mjøstårnet will be the world's tallest timber building, standing 85,4 metres above the ground. Mjøstårnet will have a combined floor area of around 11,300 square metres. The building will have 18 storeys and will include apartments, a hotel, offices, restaurants and common areas. In addition there will be a swimming hall about 4,700 square metres in size. The world's tallest timber building is being built in Brumunddal.
AB invest AS is the client, and Hent AS is turnkey contractor. Voll Arkitekter AS has designed the building. Moelven Limtre AS is turnkey subcontractor.
Moelven Limtre will supply glulam columns, beams and diagonals, CLT elevator shafts and stairs, and Trä8 floor slabs for the tower building and swimming hall in the project. The Trä8 concept was developed by Moelven Töreboda in Sweden. Moelven is responsible for the installation of all wooden structures. The consulting company Sweco performs structural design for Moelven.
Groundwork started in April 2017 and the first construction started in the beginning of September. The building will be assembled four storeys at a time. There are a total of five construction stages. Mjøstårnet will be built without external scaffolding. Instead, the project will use a large crane and internal scaffolding.
First the glulam structure is assembled on the ground next to the building, before being hoisted up and in. Then the floor slabs are hoisted into place. Ringsaker Takelementer AS will install the external façade, before Moelven proceeds with assembly upwards. The building is scheduled for completion in March 2019.
Hent AS's contract is valued at about NOK 500 million excluding VAT. For Moelven Limtre the contract with Hent AS is valued at NOK 47 million, excluding VAT. This is one of Moelven Limtre's largest contracts ever.
Glulam is wood that has been planed and then glued together to form strong columns and beams. Glulam may also be moulded into different shapes, for example arches. Glulam may be used as the main structure in the same manner as concrete and steel. As a construction material, glulam is cost-effective, fire resistant, strong and pliable.
Wood stores CO2 throughout its life cycle, and the glulam production process requires little energy. Tall buildings with load-bearing structures in glulam therefore have a very low carbon footprint. Wood is the only renewable building material we have.