The world's tallest timber building has been awarded the Norwegian Tech Award 2018. Mjøstårnet was declared winner in the Building and Construction category.
Mjøstårnet, represented by AB Invest, Hent, Voll Arkitekter, Sweco and Moelven, received the prestigious award. "Moelven are immensely proud to have contributed with our competence and sustainable solutions to this world record breaking project. Mjøstårnet is a true statement for our ambitions regarding sustainable buildings and it is a milestone for innovative constructions made of timber", says Rune Abrahamsen, CEO of Moelven Limtre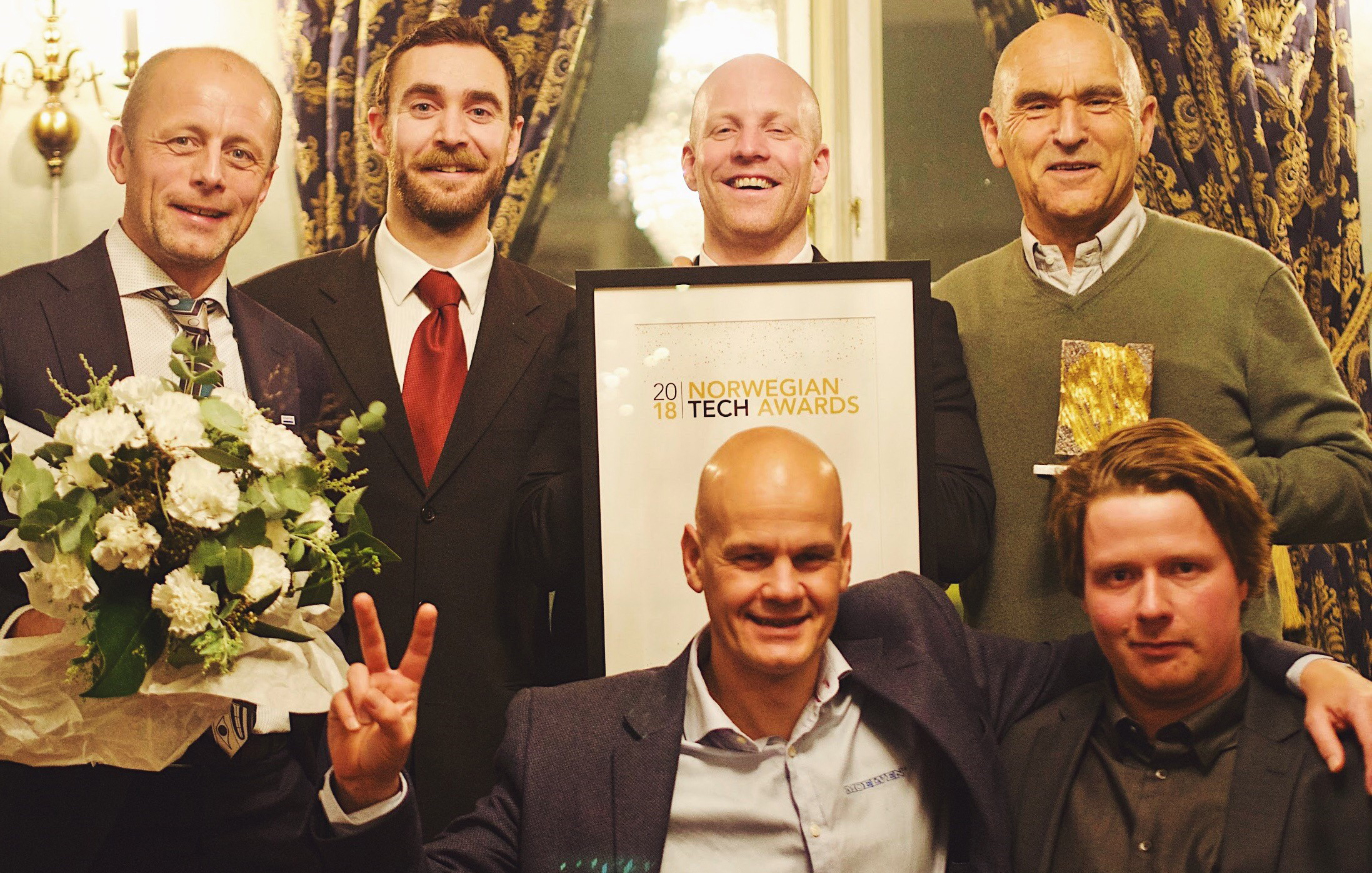 The team that received the Norwegian Tech Award 2018. From left: Rune Abrahamsen (Moelven), Anders Jørstad (Sweco), Magne Bjertnæs (Sweco), Arthur Buchardt (AB Invest). Front row from left: Harald Liven (Moelven), Bjørnar Berget Riise (Moelven). Photo: Eskil Vestre/ TU Event.
The Norwegian Tech Award is yet another example on how much attention this project creates. During the building process, Moelven alone have had more than 1000 inquiries to visit the building site.
"Looking back at it, if we and our partners should have done this project all over again, we could have hired an own guide just to handle all the visitors and the requests coming from more or less all over the world. We really appreciate the overwhelming interest for timber constructions, and this makes us optimistic regarding a more sustainable future", says Abrahamsen.
When the final beam was put in place on top of Mjøstårnet in September, the building reached a height of 85.4 meters, and is therefore the world's tallest timber building. The tower, with its 18 floors, is helping to set new standards for both height and construction methods for timber buildings. Moelven has recently noticed a significant shift towards the use of timber in large constructions.
"In recent years, we've seen an increasing demand for renewable building materials, with their potential for storing carbon. The international climate agreements have led to a greater focus on choice of materials. We don't think Mjøstårnet will be the record holder for very long. But we, and especially the climate, can live with that," says Abrahamsen.
The winners of the Norwegian Tech Award are announced by the news site TU Media, the publisher of Teknisk Ukeblad, Norway's leading business technology and innovation magazine.
Speaking of this year's winners, Teknisk Ukeblad Chief Editor and CEO Jan M. Moberg comments: "These awards are now firmly established as Norway's foremost technology accolades, recognizing companies and people that are not only leading their respective segments, but also leading the world in terms of ambition, innovation and achievement.