During the winter Olympics at Lillehammer Rune Abrahamsen found motivation to set world records using timber as a building material. 24 years later he is spearheading the timber structure in the world's tallest pure timber building.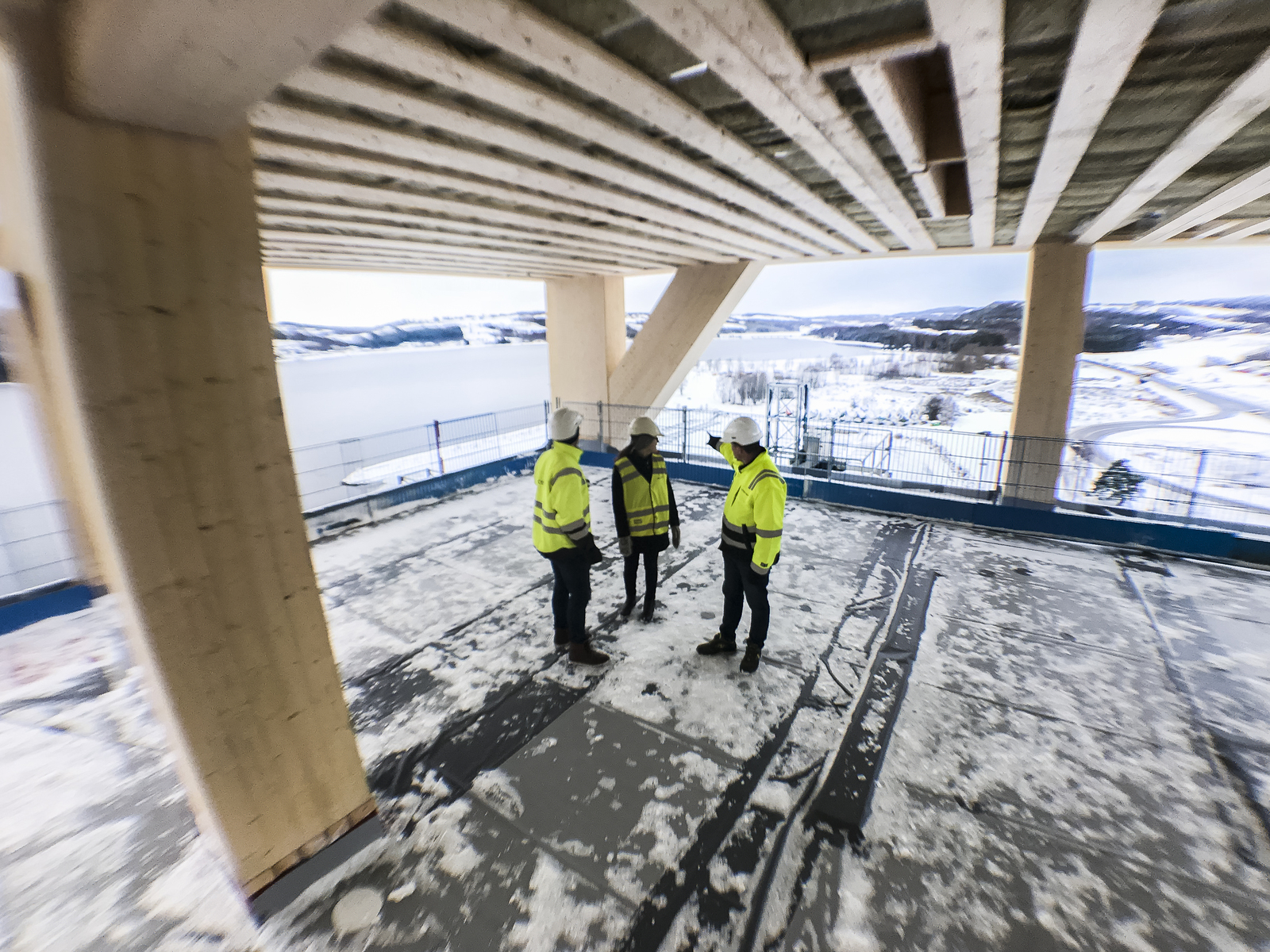 When Norwegian speed skating star Johan Olav Koss won the Olympic gold medal and set a new world record on 20 February 1994, Rune Abrahamsen (47) was the only spectator who was gazing up at the ceiling as much as at the track. In the ceiling of Vikingskipet he saw the world's largest glulam beams. Abrahamsen had taken an Olympic leave of absence from his studies in structural engineering at NTH, where he'd developed a fascination for wood structures.
Wood structures as his life's mission
The following year Abrahamsen became one of two among 250 students in the structural engineering department who chose to write a master's thesis on wood as a building material. The vast majority chose to focus on steel and concrete. The view of the glulam beams in Vikingskipet had inspired Abrahamsen to define the increased use of timber in load-bearing structures as his life's mission.
Two world records in four years
24 years after the Olympics in Lillehammer and at twice the age, Abrahamsen is 35 metres up Mjøstårnet in the small town of Brumunddal, an hour and a half north-east of Oslo. When completed in March 2019, the high-rise will tower 81 metres above the ground and have the status as the world's tallest timber building.
VIDEO: World's tallest timber building, Mjøstårnet, is world-class engineering

Abrahamsen has lived up to his 1994 life mission of increased use of timber in load bearing structures. In 2015 he was responsible for the load-bearing structure in the residential building "Treet" in Bergen, which holds the current world record for the tallest timber building at 51 metres. In 2016 Abrahamsen became director of Moelven Limtre AS, which had supplied the glulam beams for "Treet," and which is now supplying the timber beams to the 81 metre Mjøstårnet.
Taking history back
Norwegian viking ships and stave churches were world-leading timber engineering in the early Middle Ages. The glulam beams in Vikingskipet from the 1994 winter Olympics ushered in a renaissance for timber-based engineering in Norway. Up to 1985 Moelven Limtre had supplied glulam structures that could span 60 metres by placing two glulam arches against each other. This span had to be doubled to provide the load-bearing structures for the various Olympic halls for speed skating, figure skating and ice hockey. The solution was to join beams to make the glulam arches longer, and Moelven Limtre developed the node technology.

Moelven Limtre went forward with award-winning load-bearing structures for Norway's new main airport in 1996. Timber bridges were to provide the commercial breakthrough, and among them was the world's longest (at the time) 196 metre timber bridge across the Glomma river from 2003. It is only recently that the combination of anthropogenic global warming and urbanization has created a worldwide interest in timber high-rises.

"Up to a few years ago local renewable natural resources, aesthetics, Norwegian building traditions and light building materials were the primary drivers for timber load-bearing structures. It is only recently that wood's renewable and carbon-storing qualities have become an important driver. The climate accords have contributed to greater focus on material choices and structure heights, and thus the battle to build the world's tallest timber building," Abrahamsen says.
Mjøstårnet is a standing timber bridge
Abrahamsen looks up towards the current top of Mjøstårnet at a height of 52 metres. He says that for Moelven Limtre, Mjøstårnet is technically a standing timber bridge. Abrahamsen is with the consulting engineers Magne Aanstad Bjertnæs and Alvdis Hardeng from partner Sweco.
The trio of engineers are on the ninth floor, which is one of four floors reserved for a hotel. The top seven storeys will be apartments, while the lower floors will accommodate offices. With apartments at the top, there are particularly stringent demands on the swaying of the structure. Tall wood buildings sway somewhat more than those built from steel and concrete due to a far lower weight.

"This applies in particular to a narrow building such as Mjøstårnet with a width of just 16 metres. For this reason we are using concrete slabs for the top seven floors. Swaying at high winds has been calculated to around 14 centimetres at the top. The effects are the same with or without concrete slabs, but the greater weight towards the top means that swaying will be slower, thus preventing 'seasickness' among residents," Abrahamsen says.
Technological quantum leap
The aforementioned calculations for the building's swaying and fire safety are the two major technological quantum leaps for Mjøstårnet. Magne Aanstad Bjertnæs of Sweco is the key individual behind the calculations that will prevent gusts from creating unwanted swaying for future residents.

"The experience of swaying is individual, in the same manner that some people become carsick more easily than others. The international standard for swaying from gusts in buildings recommends that only two per cent should notice movement in the event of a storm. Our quantum leap consists of using the group's experience to stretch the boundary for height. Mjøstårnet is 60 per cent taller and 25 per cent narrower than our current world record from the Treet high-rise in Bergen," Bjertnæs says.
VIDEO: World's tallest timber building, Mjøstårnet, is world-class engineering
Can withstand fire
Fire safety has traditionally been the main objection against timber high-rises. Through the process with Mjøstårnet, it has been proven that the problem is eliminated.

"The requirement has been that the building must remain standing after an eventual fire has gone out by itself – even if the sprinkler system should fail and without extinguishing. An independent fire test has documented that the strong glulam structures will continue to support the building after a fire has gone out by itself. We have calculated the location of the glulam beams such that they don't mutually affect each other in the event of a fire. The amount of flammable material at any location will be so small that a fire will die out by itself," says Abrahamsen of Moelven Limtre.
Can build taller than 100 metres
With a wider building, Abrahamsen is of the opinion that more records will be broken for timber building heights.

"It's mainly the width that determines how tall we may build a timber building. Greater width means the building sways less. A wider building would make it unproblematic to build higher than 100 metres, and even perhaps 150 metres or more.
Global struggle for the world record
A number of players are vying for the world record for the world's tallest timber building, and a need for a proper definition of a high rise timber building has arisen. There are already corresponding definitions for different varieties of tall steel and concrete buildings.

"On commission from the Council on Tall Buildings and Urban Habitat (CTBUH), Englishman Dr. Robert Foster has put forward a proposal that buildings with braced concrete cores are defined as wood-concrete hybrid buildings. We have reason to believe that this proposal will be adopted in the first half of 2018. If the rules come into force, HoHo Tower in Vienna and Brock Commons in Vancouver will be defined as wood-concrete hybrid buildings rather than timber high-rises. Both of these projects are nevertheless outstanding examples of how one can achieve major reductions in greenhouse gas emissions by combining materials," Abrahamsen says.
Sharing knowledge
Abrahamsen says that his predilection for wood as a building material and the global climate is greater than for world records.

Mjøstårnet is being built in a region that is a leader in forestry and winter tourism. The client was born and raised here, Moelven Limtre has its headquarters here, and a local cooperative of forest owners is our key owner. We're happy to share our experience and calculations with anyone wanting to build taller timber building than us. We place greater importance on the earth's climate and our descendants' skiing trips in the woods than our own world records.
VIDEO: World's tallest timber building, Mjøstårnet, is world-class engineering