To Malin and Kim, HSE is an important part of everyday work, and they believe this is how it should be for all employees of Moelven.
"I think the company does a good job with HSE (health, safety and the environment), and feel that we have come a long way in this area," Kim Nilsson says.
He is a production worker at Moelven Byggmodul AB in Kil in Sweden, as well as safety representative and a member of the company's safety committee. As a part of the governing body for HSE work at Moelven, Kim plays a part in determining which requirements that should apply and which measures that are to be implemented.
"We should not have a single injury at Moelven, and to reach that goal we must have constant focus on safety. I find it both rewarding and fun being a part of this work," Kim says, and is supported by Malin Karlsson:
"It warms our hearts to see that both employees and supervisors take ownership of HSE, thus contributing to making sure we all come home in one piece.
Take responsibility yourself
As a working environment engineer at Byggmodul in Sweden, Malin is the HSE supervisor in the company that supplies various modules to the construction market. She is also a member of the technical HSE forum, which provides recommendations to the safety committee. Both she and Kim agree on what is most important to avoid accidents and injuries:
"Each of us has to take responsibility to work in a smart and safe manner. By stopping to think for three seconds before performing new work operations, and by allowing a colleague about to perform a risky operation three seconds, we can create an even safer workplace.
Malin and Kim are passionate about HSE, but they also believe that the strong focus on the area has been well-received by the other employees. Because although the company has seen improvements in terms of the number of injuries, we still have too many. They emphasise that HSE is a field in which there is a lot of theory, but where the challenge lies in safety work always being top of mind in each and every employee.
"We need to raise awareness, competence and knowledge of HSE among both employees and managers. It's about putting theory into practice and following up reported matters across longer periods of time. If we succeed, we will reduce the number of injuries," say the HSE advocates Malin and Kim.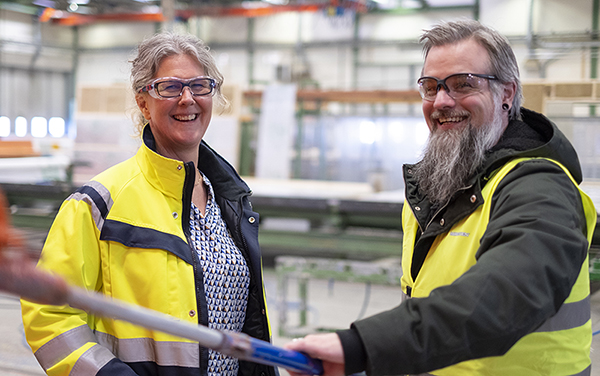 Kim Nilsson and Malin Karlsson are passionate about all employees enjoying their work and making it home in one piece. Photo: Moelven
We should not have a single injury at Moelven, and to reach that goal we must have constant focus on safety.
HSE matters most
"Our first priority at Moelven is HSE. We must have a safe and secure workplace that enables everyone to arrive home in one piece, both physically and mentally. This is what's most important," says Anne Cathrine Amdahl, HSE manager with Moelven.
The company actively works to reduce the number of injuries, and will in the focus even more in the future on sharing experiences and working preventively," she says.
"Everyone shall benefit from being a part of the Moelven group and learning from each other. We will do things the 'the Moelven way,'" the HSE manager says, elaborating:
"We shall become a company that other companies look up to, because we care about each other, go the extra mile and do things better and safer.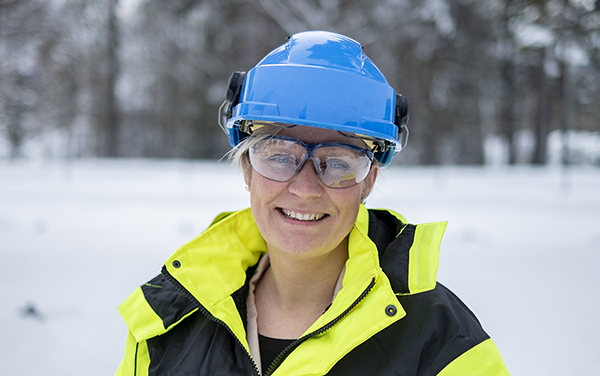 Anne Cathrine Amdahl, HSE manager. Photo: Moelven