The Moelven Group will launch its new brand on the 18th of October. "It will help us to be prepared and equipped for the future", says Morten Kristiansen, CEO of Moelven Industrier ASA.
Moelven's current visual identity has existed in more or less the same style since the 1970s, and was last adjusted 15 years ago. It has done a great job for Moelven for many years, but now the group is looking to the future and wishes to move in a more modern direction.
"Both the world and Moelven have changed a lot during these years. We are committed to ensuring that our identity reflects what we are doing today and where we want to be in the future. Therefore, we found it was the right time for a refurbishment job", says Morten Kristiansen.
Behind the launch of the new brand are three years of insight, analysis and project work.
"Virtually all of Moelven has been represented in reference groups and work groups, and together we have developed a new value platform, including a mission, vision, values and staff ideas, as well as a graphic profile that reflects today's and tomorrow's Moelven", says Magne Vikøren, Chief Communications Officer at Moelven.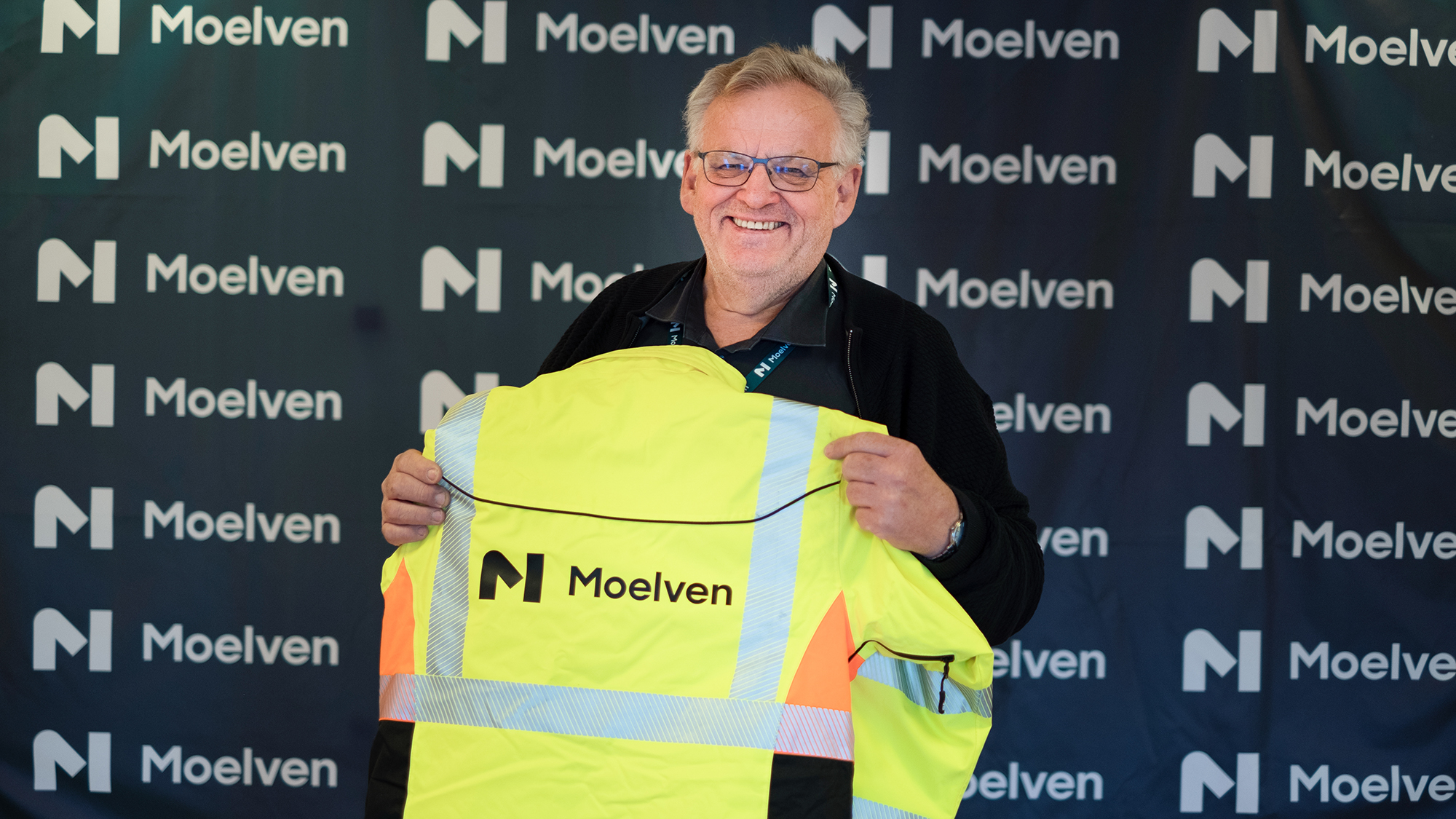 Morten Kristiansen, CEO of Moelven Industrier ASA.
Blue-green direction
In the years that have passed since the last visual change, Moelven has continued to develop and focus its activities towards wood-based industry and climate-smart solutions. This permeates Moelven's identity from vision to colour.

"We harvest raw materials from the forest and turn them into products the world needs, so it is natural that we move ourselves in a blue-green direction. The blue symbolises industry, and the green symbolises sustainable natural resources. Together, these will form our new colour, a bluish-green teal variant. The new M symbol in the logo illustrates parts of a tree that are placed next to a plank of wood", says Vikøren, adding:
"For over 120 years, Moelven has used the opportunities that surround us: This includes investing in machines, people and in the Moelven brand. We do all this so that the company can continue to deliver climate-smart solutions and products to our customers and partners – for many, many years to come."



The new M symbol in the logo illustrates parts of a tree that are placed next to a plank of wood.


Sustainable roll-out
Although the Moelven Group is getting a new identity, customers may not notice the change right away.
"We have chosen a sustainable roll-out of the new brand. Digitally, you will meet Moelven's new image immediately, while the rest will take place gradually. This means that we will use up what we have before we start buying new things. For example, it means that we will replace workwear and packaging after we have used up what we already have in stock. This will save us several million kroner, and it is sustainable. This phase will last approximately one year", says Vikøren.
Moelven has developed the new brand in collaboration with Knowit Experience.
The future is built with wood
Sustainability is crucial to our competitiveness. Therefore, we have set ambitious and concrete sustainability goals within four main areas. For one thing we can state for years to come: We will contribute to a sustainable future in wood.
Read more about our sustainability goals