Arthur and Anders Buchardt of AB Invest AS and contractor HENT AS have entered into a turnkey contract to build Mjøstårnet in Brumunddal. This will be the world's tallest timber building.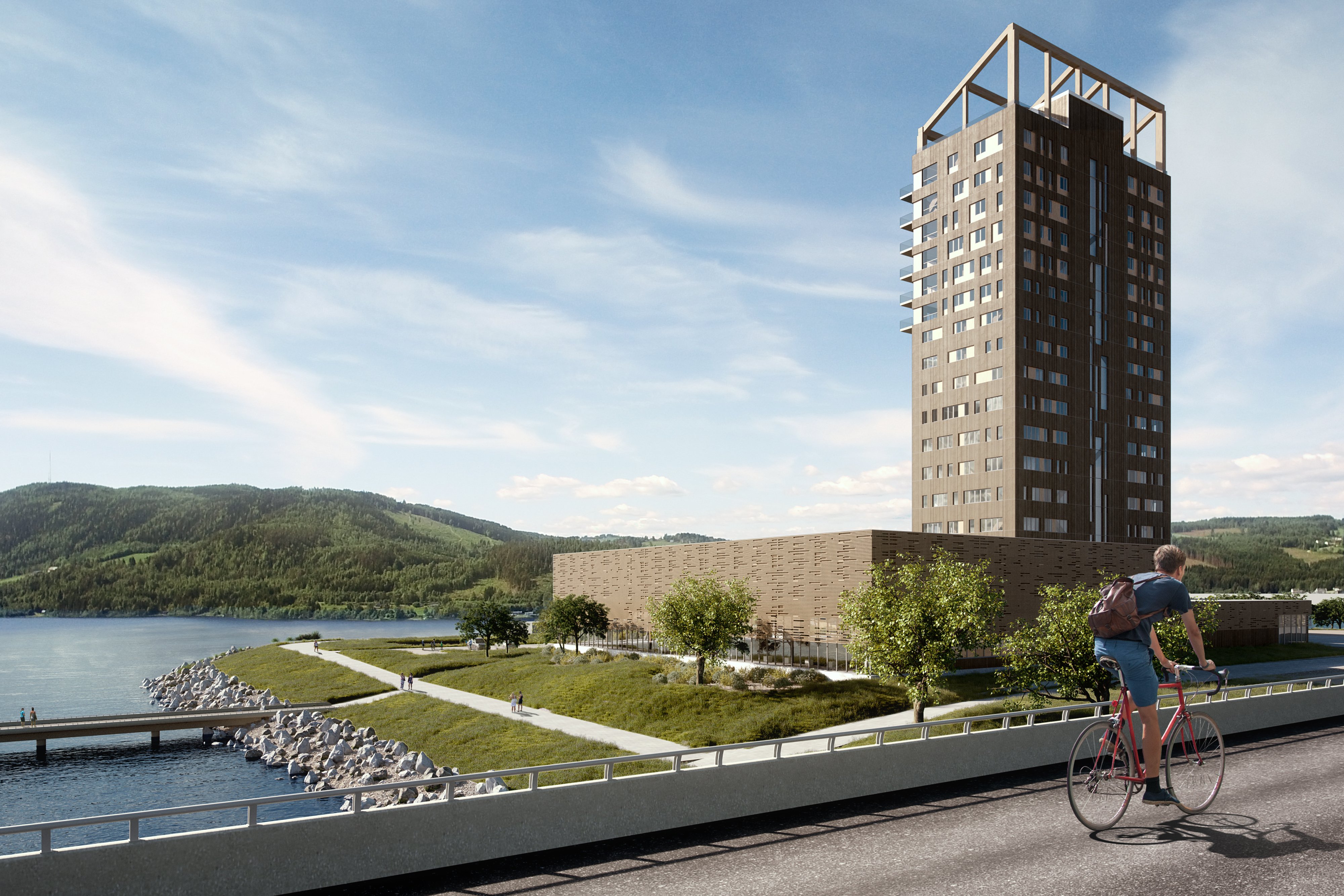 At the same time, HENT AS has entered into a contract with Moelven Limtre AS. The company in Moelv will be the turnkey subcontractor and will supply glulam, Kerto and cross laminated timber for the tower structure and swimming hall in the project.
Development collaboration
Marketing and development director Knut Alstad of HENT AS says that the project is the result of a development collaboration between AB Invest AS as client, HENT AS as project developer and turnkey contractor, Voll Arkitekter AS and Moelven Limtre AS.
"Traditional materials in a high-tech context are the keywords here. This is a project we all will be proud of – and that we are very pleased to have developed," Alstad says.
18 storeys
Mjøstårnet's overall size will be around 15,000 m2, and will span 18 storeys and include apartments, a hotel, offices, a restaurant and associated common areas. The total height will be more than 80 metres. The value of the contract for HENT AS is around NOK 500 million, excluding VAT. For Moelven Limtre the contract with HENT AS is worth NOK 47 million, excluding VAT.
Startup on 1 April
Planning is well under way, and work at the building site will start on 1 April 2017.
According to client and investor Arthur Buchardt, the project will also include a modern swimming facility around 4,000 m2 in size – beautifully located with the Mjøsa lake as its closest neighbour and operated by Ringsaker municipality.

"The main structure is based on glulam, with slab elements consisting of a combination of glulam and Kerto, and façades as wooden elements. This is a response to the "green shift," and proof that wood is a material that can compete with traditional solutions in high-rises too, enabling climate-friendly building as long as one has the right mindset," says client Arthur Buchardt.
Excited
CEO Rune Abrahamsen of Moelven Limtre AS is excited to cooperate with HENT AS on building the Mjøstårnet project in Brumunddal for Arthur Buchardt.

"In recent years HENT AS has delivered a number of 0 fault projects. They have delivered several major building projects to both public and private developers all over the country – including projects for investor Buchardt," Abrahamsen says.
Delivers the goods
Abrahamsen believes this means they have great confidence in Moelven Limtre AS's ability to deliver the goods.

"Moelven Limtre AS will be turnkey subcontractor for the tower building and swimming hall in the project. This is without question one our largest contracts ever," Abrahamsen says.
Pleased
Knut Alstad is pleased that the contract has been concluded with Moelven Limtre AS, and is looking forward to proceeding with the project.
"When developing and building projects of this scale and character, we are dependent on solid, knowledgeable and innovative partners. There is no doubt that Moelven Limtre AS is in that category! The fact that they are local is also particularly pleasing. We're going to break a world record together, and this requires that we put every effort into good planning and structured implementation," Alstad says.
Wood dominant
Rune Abrahamsen explains that Mjøsparken will consist of glulam in columns, beams and diagonals, and cross laminated timber in elevator shafts and stairwells.

"The tallest building – the one we call Mjøstårnet – will have wood-based slab elements in the bottom ten storeys in the form of Moelven's Trä8 elements. Moelven Limtre will supply and install all timber structures. Installation will take place from September 2017 and until April 2018. Sweco AS in Lillehammer is responsible for planning and design of the structure for Moelven Limtre. Ringsaker Takelementer is assembling the wood elements for Moelven Limtre AS," Abrahamsen says.
About building with wood
Wood is a material steeped in tradition. It has been used for buildings and structures and other products for several thousands of years. In recent years the use of wood in buildings has increased. Wood is gaining ground, and this is partly due to research and development efforts through Innovation Norway and the Research Council of Norway A clear political focus on the environment has resulted in greater interest in forestry, increased harvesting, locally produced materials and increased use of wood.
Wood has the unique position of being our only renewable building material. Its production is friendly to the environment and efficient with regard to resources, and it contributes to reduce the overall climate impact from the building industry. Wood also has a positive effect on the indoor environment in several ways. Today's architects and engineers are contributing to developing the material through innovative architecture using wood. The government also singles out wood as a material in several respects – in agriculture, building, architecture and climate policy.