Why will "Mjøstårnet" be the world's tallest timber building? Here's the answer!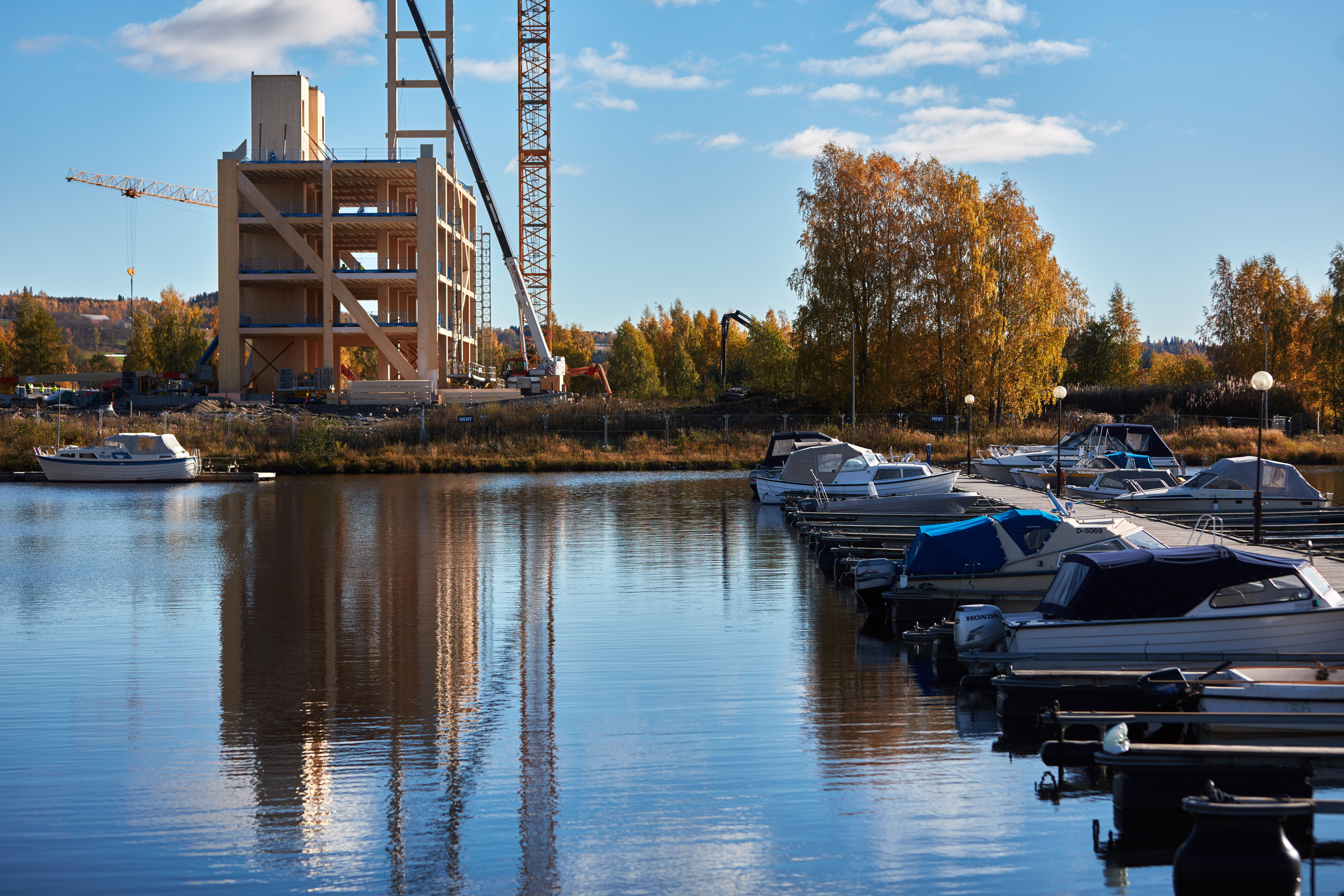 According to director Rune Abrahamsen of Moelven Limtre AS, the answer is mainly because "HoHo-tower" in Vienna – which will stand 84 metres tall – will not be defined as a timber building.

"For a start, Hoho is not a timber building according to how the definition of this will be. It's a wood-concrete-hybrid building – also known as a composite. Second, the building will not be completed until a month after "Mjøstårnet" is completed. But the latter is a moot point if the first is correct. And there is little doubt that this will be the case," Abrahamsen says.
Leading expertise
The Norwegian glulam boss and civil engineer's expertise on large timber structures and tall timber buildings is attracting international attention. This is why he was invited down under to take part in a workshop under the auspices of CTBUH (Council On Tall Buildings And Urban Habitats) in October. The workshop was held just before a major conference on tall buildings. The conference was Sydney CTBUH 2017 International Conference.

Abrahamsen gave a presentation at the "Tall Timber Workshop" on what will become the world's tallest timber building – Mjøstårnet. He then took part in discussions throughout the day on what the international standard should be for what can be called a timber building.

"Both at the workshop and in the conference there were discussions with experts from all over the world. The reason is that a lot of timber projects have claimed to be the world's tallest, Europe's largest and America's tallest apartment building. Lacking rules, most can rightly make such claims, Abrahamsen says.
International standard
On behalf of CTBUH, Englishman Dr. Robert Foster – who also was a part of the expert group in Sydney – created a proposal based on the discussions, which will be sent to the CTBUH steering committee. There is reason to believe that CTBUH will approve this proposal some time in the winter, and that we then will have a clear international standard for what may be called a timber building.

"According to this proposal, both "Treet" in Bergen and "Mjøstårnet" in Brumunddal will be defined as timber buildings, while buildings with supporting concrete cores – such as "HoHo" in Vienna and Brock Commons in Vancouver – will be defined as wood-concrete hybrid buildings – or composite buildings. Subsequently one may expect that Mjøstårnet will be named the world's tallest timber building when completed," Abrahamsen says.
Wood most important
Abrahamsen nevertheless emphasizes that for Moelven and the environment in general, it is important that smart wood solutions are used in as many buildings as possible, preferably in combination with other materials, regardless of whether the building is defined as one thing or the other.

"And we can contribute to this. The composite buildings in Vienna and Vancouver demonstrate how one can build tall and large buildings with a lot of wood. Although the buildings are not defined as timber buildings, they are outstanding examples of how one can achieve major reductions in greenhouse gas emissions by combining materials," he says.
CTBUH is a huge organization with a major impact in the international construction industry. The organization safeguards the interests of those who build and are interested in skyscrapers. Currently skyscrapers approaching a kilometre in height are being built. CTBUH is globally recognized for establishing measuring rules, definitions and categories that are used by the Guinness Book of Records, among other things.
Important conclusion
Abrahamsen says that the proposal Robert Foster has sent to the steering committee of CTBUH is very important.

"As of today, there is no international standard or category for timber buildings. There are only categories and standards for steel, concrete, composite and combined structures (steel/concrete or concrete/steel). The proposal that likely will be approved, is thus important for the entire industry," Abrahamsen says.

Climate is all the rage
Abrahamsen says that the climate issue is far more important than it has been previously on the international stage.

"Building with wood is all the rage. It's probably one of the reasons the topic is coming to the fore now," Abrahamsen says.