Pehr Eriksson manages Moelven's British organisation and the sale of timber in Britain. His duties involve being on the road two or three days a week. We recently joined him on an early morning visit to a big customer - Snows Timber in Glastonbury just south of Bristol.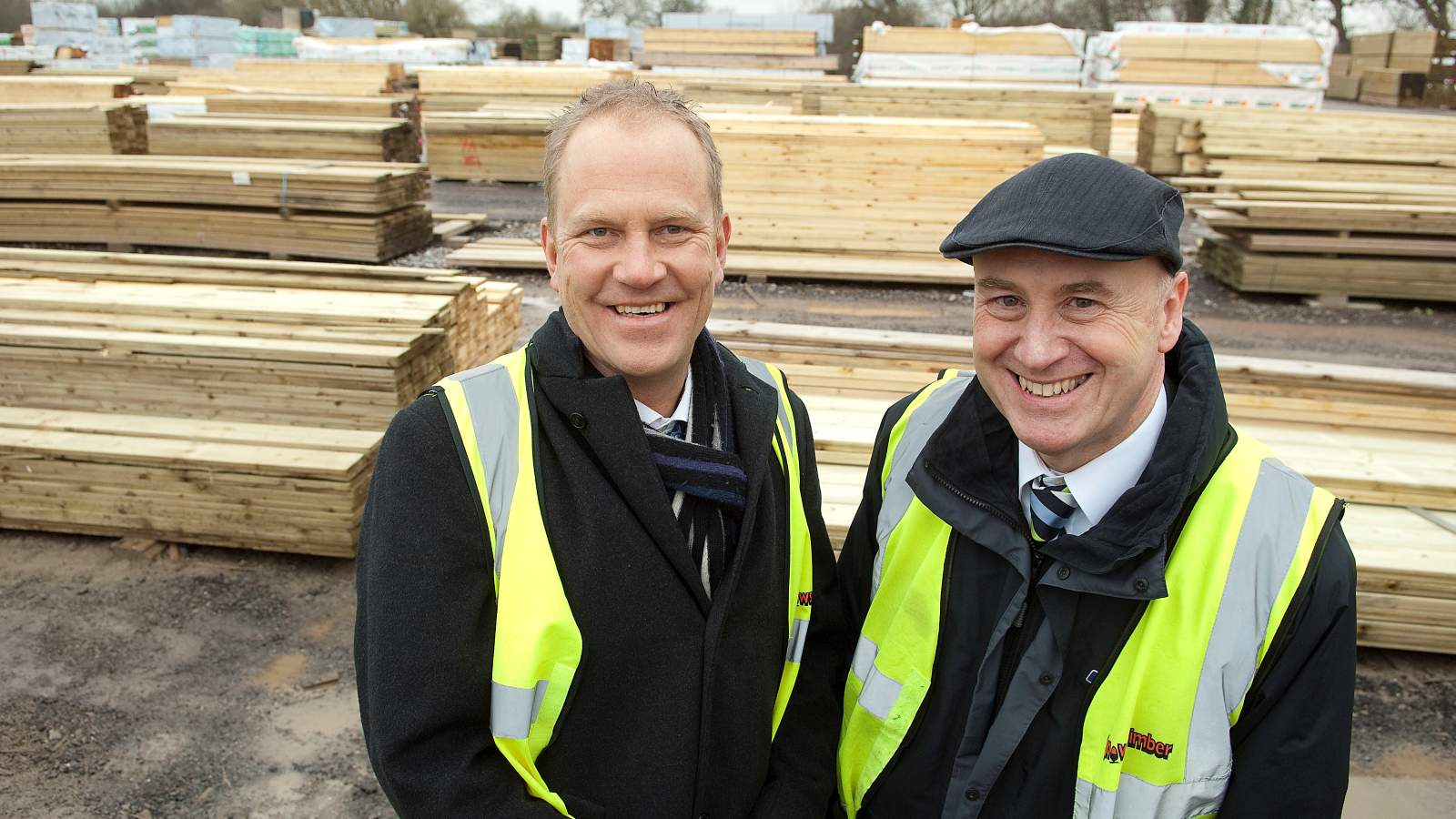 We leave Croydon at seven in the morning. We make our way along twisting, narrow roads to the M25 motorway, the ring road around London. Snow had fallen in Britain a couple of days before and, even though most of it has gone, it is still affecting traffic. Some of the smallest roads with steep hills are closed and Pehr has to find another route.
Traffic is heavy on the roads around London at that hour of the morning. Commuters and trucks fill the roads and Pehr often looks at his watch. It is important to keep to the schedule. After the Glastonbury visit, for which two and a half hours' travel is allowed, he has a further three hours' drive to an industry seminar outside Manchester. Time in the car must be used as efficiently as possible, not just for travelling.
Work starts early
That is why Pehr is already on the job before most people are up. He telephones colleague Russ Fletcher to check something. They talk about various customer contacts, what the different customers need and what prices are looking like.
"The market has been unstable for the last six months. There is a lot of sawn timber on the market right now, partly because the Finnish sawmills have increased deliveries. This is partly outweighed by lower volumes coming to Britain from Russia, as the Russians move their focus towards China. But there is some instability, and that affects the prices," says Pehr.
As we leave the London area behind us, the traffic becomes less heavy, but we are enveloped in the classic British fog for the first hour. It is not thick enough to affect traffic, but it confirms the impression many of us Scandinavians have of England. We turn into a petrol station. Pehr fills the car up and recharges his own batteries with a sandwich and a can of Coca Cola.
"Sometimes I eat breakfast behind the wheel and lunch at McDonald's," he says.
This is a reality he shares with most people who spend many of their working hours on the road. The telephone rings. It is a customer who wants to check the price of an order. The discussion is soon over and done with. Seller and customer know each other well, and this is about getting delivery at the right time and the right price. When the call is over, Pehr rings Lynda in the Croydon office. He asks her to print out a contract with the prices, dimensions and delivery times that he and the customer have just agreed on. Calls with various customers follow one after another and Pehr also calls Jan Wahlberg at Valåsen to discuss how best to cover the needs of a particular customer.
Useful technology
Modern technology - a GPS unit to keep him pointing in the right direction and a mobile phone connected by Bluetooth to the car's audio system - has been a useful tool for Pehr Eriksson, who can now make good use of the many hours he spends in the car.
We roll into Glastonbury, a small town in the county of Somerset in south west England. This is where Snows Timber has one of its four depots in Britain and several of Moelven's sawmills deliver timber here. The company has a planing mill that processes Swedish and Norwegian pine and spruce. There is also an impregnation unit for board.
Purchasing manager John Lloyd welcomes us. He has a well established business relationship with Pehr Eriksson that goes back many years. He values the contact with Moelven, and especially Russ Fletcher, who is Snows Timber's day-to-day contact.
Local office is important
"It is important for us that our supplier has an office in Britain. We need fast, close contact and Moelven has shown that it can meet our needs. We are in almost daily contact with them, both on the phone and through visits. Sometimes we also meet representatives from Moelven's sawmills in Sweden and Norway. This contact is very important to us. When the sawmill managers get to see our operation here, they get a much better impression of what we need, and that means they can tailor some of their production into products that suit us," explains John Lloyd.
"In the same way, Moelven's local office in this country is also important for us. There is no doubt that the direct contact we have with the people here in Britain means that communication between us and Moelven is much smoother on those occasions when we have special needs," he says.
Further processing
Lloyd explains that Snows Timber is one of the country's biggest independent importers, buying about 160,000m3 of timber last year. After further processing, most of it is sold to builders, dealers and industry.
"Only nine per cent of the products go to our own dealer network," he says.
The company' sales last year totalled 37 million pounds (around SEK 395 million).
Most of the imports come from Sweden and Finland, which have the best quality. A good deal of timber also comes from Germany and a small amount from Russia. Lloyd explains that the quality of domestic British raw materials is much too low.
"Quality, price and reliable delivery are important elements for us. We see great advantages in doing business with Moelven UK and with Pehr and his colleagues. They can put deliveries from several sawmills together in the same pack, which means that we always get the right volume and the right quality. It would have been much more long-winded if we had to deal with every single sawmill.
Negotiation
The conversation between Pehr Eriksson and John Lloyd enters a negotiating phase. John confirms what Pehr said before about an unstable market. There are many indications. Nearly every day he receives very attractive offers from Moelven's competitors. The discussion ends in agreement - a little downward price adjustment for one quality, a little price rise for another, for this delivery now. Contented expressions, a handshake, and Pehr collects his papers together, gives his thanks and sets off for the north. When he has driven out of Glastonbury, he rings Lynda in the office and gives her the information she needs to print out the contract with Snows Timber.
Along the way, the beautiful rolling landscape glides by. The telephone rings. New business to discuss. Agreements are made and soon Scandinavian timber is on its way across the North Sea for use on British building sites and in British industry.